There is no better way to start off a New Year than with — not just one but TWO — brand-new, never-before-published creative, exciting products!  Even better, when such a creative endeavour is about a CELEBRATION...
Throughout 2023, Rob Kuntz and Three Line Studio will be celebrating 50 years since the inception and playtesting of the world's first commercial RPG in 1973!
And there is no better way to celebrate than to reward YOU, Rob's loyal fanbase, with our launch of Gargax's Glorious Gewgaws and Pryce's Price, both available to purchase exclusively from our newly-launched Three Line Studio Store!
And here's a novelty: for the very first time, we are 'going' digital as those two products are published in professional high-quality full-colour PDF format, printable and viewable on all electronic devices, PC/MAC/Android.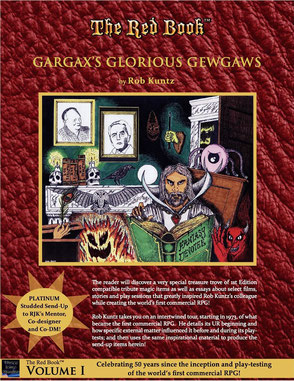 Cartography, interior art and
Gewgaws
cover art are by a promising
young Italian graphic artist, Davide Gambarara, who did a stirling job!  Davide brought a crisp line work to both Gewgaws and Pryce.  We cannot praise him enough and can already hint at the fact that Davide will be involved in forthcoming TLS projects! More information about Davide from our
TLS Facebook post
.
Rob's two celebratory releases are part of Three Line Studio's
Red Book
™
collection, and are send-ups to Gary Gygax:
Gargax's Glorious Gewgaws is divided into two sections.  The first part references in detail some special magic items, while the second part features the films, literature and authors that historically inspired the beginning of the RPG form. 
Pryce's Price is a very exciting and captivating action-packed adventure module with gothic undertones, described as "one of the most fantastic adventures written by Rob Kuntz to date!"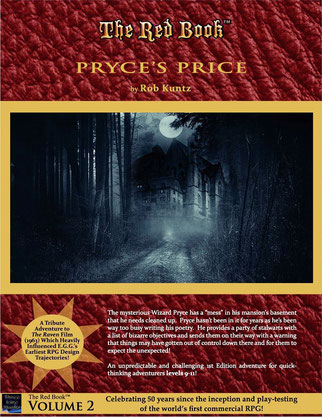 Gewgaws and Pryce are sure to brighten up your day... and your game! If you wish to purchase Gewgaws and Pryce together, why not take advantage of our SPECIAL OFFER on the Gewgaws Pryce Bundle and save 25%!
Head off to our store
—
only one click away
—
and while there please also make sure to download
Rob's latest FREE (26-page long) Newsletter
.
Happy Celebrations!