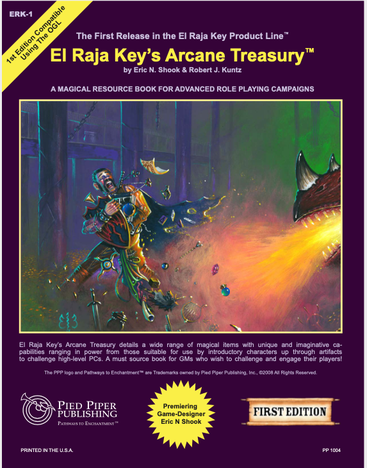 Alongside the release of The Return of Robilar (see previous blogpost), we have another exciting piece de resistance for you: El Raja Key's Arcane Treasury – a classic!
Written by Eric Shook and Rob Kuntz, and originally published [as a print product] in 2008 by Rob's Pied Piper Publishing company as "The First Release in the El Raja Key Product Line", El Raja Key's Arcane Treasury [ERKAT] describes itself as a magical resource book for advanced role playing campaigns. Now available again, this time as a digital reprint, ERKAT is a welcome addition to Rob's iconic digital collection on TLS Store!
This 72,000 word resource book by Eric Shook and Rob Kuntz takes magic items to the next level. Many of them are adventures in their own right! Included in it is a send-up item to Dave Trampier, TSR's penultimate artist BitD! Extensively illustrated, unique magic items for every level of character and for breathing the enchantment of Fantasy into your 1st Edition game!
From Rob Kuntz's Special Introduction: "Fantasy has always embodied the spirit of impossibilities come to life and the ability to interact within a fictional strangeness, and sometimes, to even understand it. The freshness of mystery and suspense that that brings to the game can be readily manipulated by a competent DM, and so too can it be enhanced by uniqueness, whether self-created or borrowed from books meant to help with that."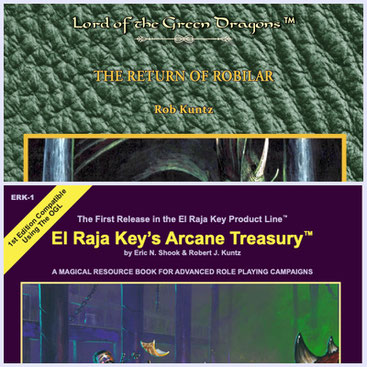 P.S. El Raja Key's Arcane Treasury is not only available to purchase as a standalone product, but also as part of a digital 'bundle', The Robilar ERKAT Bundle (The Return of Robilar + El Raja Key's Arcane Treasury), a cash-savvy way of bagging a bargain on Three Line Studio Store!